60's fashion, psychedelic music glowing in the air –Everyone makes reference to the Summer of Love but in this case, it actually was the Summer of Love. Only, in the 60's, I was a small boy.
Psychedelic was the order of the day with Woodstock yet to happen. One Saturday, my mom took us to a sidewalk sale. That was a big event in Temple City, a suburban L.A. community. The streets were blocked off and it was like a festival.
The local merchants had their wares in front of their stores, windows filled with 60's fashion, vinyl albums, psychedelic music, fluorescent signs that promised discounts. Not just 10 or 15%, I'm talking in the 50 percentile mark or 60s. That's why everyone was there.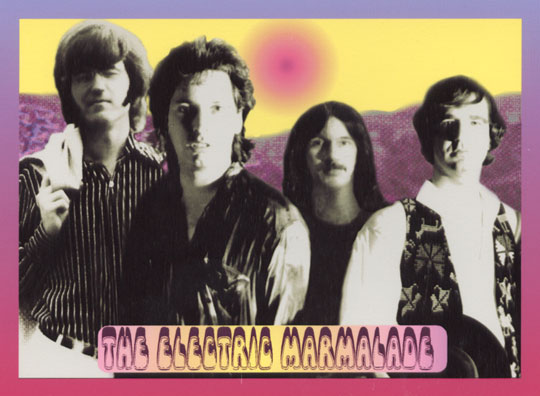 But the coolest thing to me was the psychedelic rock trio playing in front of the local music store. They wore Beatle boots and velvet bell-bottoms. I remember the bass player doing a little dip on the downbeat of a three-chord progression and they were all electric!  I had a Peter Max notebook and an Andy Warhol lunch bucket.
Though I was really young, The Summer of Love made a huge impression on me. By the time I was in high school, The Beatles had long since broken up but I remember taking a copy of The White Album into the art lab and playing Revolution #9 on the turntable. The teacher, Mrs. Morris yelled, "Take that off! That's weird!" –I loved how freaky she got.
In 1982, I bought a beat up Rickenbacker 12-string for $325 dollars from a guy whose girlfriend was going to have a baby. I formed a band named The Wail. The Wail was the predecessor to The Electric Marmalade. We played 60's tinged, psychedelic rock, all original songs. We were a quartet with a left-handed bass player in true 60's fashion. We wore mop tops and Nehru jackets, and burned incense on stage.
I took a long drape down off my window and made a sign that we hung behind our stages. It said–Woodstock. Well of course we were only joking.  We started out playing parties, love-ins and school dances and eventually began playing to sold out crowds at Pasadena's own club, The Ice House, as the main bill.
We played psychedelic rock and I used to stand in front of my amp on stage and make solos out of feedback. I loved making long weird sixties music while I was gyrating my head in a stupor and my hollow-body 12-string just fed back so easily.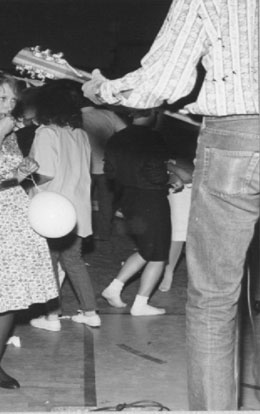 60's:  It may have been the 80's by this time but there was that drape to remind me, –Woodstock.  And the incense smelled psychedelic …but, fans diving off the stage into the mosh pit? –not hippie-like exactly  …1983?  Aw shucks, could've sworn it was really '67.
The problem we had was that our fans were rowdy, riotous, ending with manager, Duane Thorin, being forced to lock us all in the sold-out club after gigs while the cops broke things up. That part wasn't like a summer of love exactly, but hey, everyone there was wearing paisley so …you know, it was fine.
I used to talk with the ticket clerk who was a young woman. One night she complained that there was going to be fighting and chaos in the streets that night because of us. I placed a bet with her –a psychedelic black-light poster (that I had just bought) that it wouldn't happen.
Groovy, The Cowsills were opening for us that night (weird).  We waited back stage as they started their set. We heard a lot of yelling and 15 minutes later, The Cowsills came back into the dressing room with stickers reading, "The Wail" all over themselves and their guitars.
Bob Cowsill said, "You better get out there, guys. It's your crowd." The Cowsills were so cool to us and actually, it was very embarrassing.  When the gig was over, and we were all locked in the club, I of course brought the ticket clerk her psychedelic poster.
In 1983, the small but happening Daisychain label released our single: "45 Degrees (I Love You)" b/w, "Midnight Eyes." The record was produced by Earle Mankey. The A side was picked up by KROQ FM D.J. Rodney Bingenhiemer, who played our songs alongside other psychedelic acts ranging from actual sixties bands like, The Seeds and Love to newer groups like The Bangles, The Three O'clock and our band.
By the end of the year, our tune "45 Degrees," had reached the number eighth most requested song of 1983 on The "Rodney on the ROQ" show. That was a blast. We started touring all over Southern California. And we played all the Hollywood clubs like The Whiskey, Gazzarri's, The Roxy and Madame Wong's to packed rooms. It was really groovy.
We continued playing colleges like CALTECH and clubs all over California under the name our new name, The Electric Marmalade. We played psychedelic music.  And released an EP, also produced by Earle Mankey which received airplay on K-ROQ FM and college radio.
This new incarnation of The Electric Marmalade is the coolest and most mind-bending psychedelic band I've had to date.  This line-up of The Electric Marmalade was formed in the year 2000. I play the 12-string Rickenbacker and sing.
Devin Thomas, who has also toured and recorded with Oingo Boingo and was the original keyboardist for Wild Child, plays the Vox organ.
Dave Beyer who is also the drummer for Melissa Etheridge and former drummer for Christopher Cross, plays drums.
And just like that sidewalk band from my own little Summer of Love when I was a kid, I always make sure I do a little dip on the downbeat of a three-chord progression, my nod to a summer afternoon in the 60's.
I feel we get to a new stratosphere of the psychedelic with The Electric Marmalade. We are working on a new album which will be a benefit to help children.  We are excited about it.
I hope you will enjoy our CD, "Voyage through the Lava Lamp," on the Zebra Valance label.  It is a concept album in the truest sense. It really takes you through both your lava lamp and your mind. We had a fabcool time recording it!
Listen to it on our iTunes page and pick it up today. click image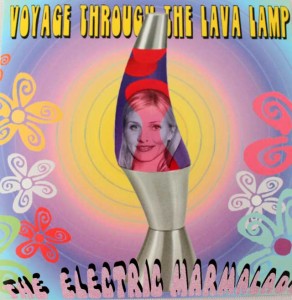 Peace and Love,
Robin Reda